Jeffery Beckman finds his way in high school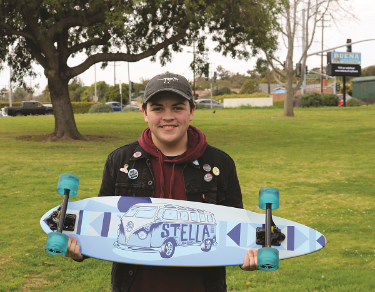 During his junior year Jeffery Beckman has been finding this year as an opportunity to explore interests and learn more about himself. Beckman is a lover of the arts. He enjoys writing poetry, and listening to music. Additionally, he participates in the Dungeons and Dragons club, which he feels is "the best club ever!"
This year, Beckman has been learning more about the pagan religion and rituals. He enjoys the belief in a higher power, along with spirits of the earth, wind, and fire. This interest began when he wanted to learn how to use tarot cards, and he discovered that they arose from the pagan religion.
Beckman's favorite teacher is Spanish teacher Melynda Atkins, because "she's always there for me. She's a good person."  He looks forward to taking French with her for his senior year. When asked about Jeffery as a student, Atkins said "Jeffery is an awesome young man. He is funny, friendly and kind hearted. He is always willing to help or to say something nice to make you feel better when you are having a bad day. We need more Jefferys in the world!"
Outside of school he enjoys playing video games, jamming out, vibing, skateboarding, and hanging out with friends.  Matthew Morgan has been friends with Jeffery since freshman year, and he describes him as "dependable and thoughtful." A lover of music, especially indie bands, Jeffery says that one of his favorite bands is FUR. His favorite song of theirs being "Nothing until something comes along", followed by a second favorite, "Earfquake" by the musical artist Tyler, the Creator.
Beckman's favorite subject in school is English because he finds that "poetry helps me think." Beckman also enjoys playing music, and has participated in band classes for multiple years in the past. Although he took this year off, he played tenor saxophone in marching band freshman and sophomore year, and plans to return his senior year.
Jeffery's love of poetry has produced several long verses. Of the poems, Jeffery has asked me to include this poem. "When I look into your eyes, I feel too I am not worthy, I love the seconds, minutes, and hours that we are together…" Jeffery is a motivated individual that is pushing through his junior year to find himself, enjoy himself, and better himself.