Bulldog Nation Welcomes a New Addition to Help "Row the Boat"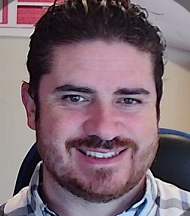 One of our newest faculty additions to Buena will be one that we see both in our classes and in the playing field. Dale Perizzolo earned his first teaching job here at Buena and he is ready to encourage and make a difference in his student's and players lives. Only three weeks in, and his energy in the classroom has brought a new level of enthusiasm to learning for his students. 
Straight after graduating from San Marcos High school in Santa Barbara, Perizzolo has been coaching for 18 years. This year he is the varsity running back coach.
"We don't always measure the success of a program on wins and losses, it's measured by the character of our students." Perizzolo said. Being a student before an athlete is a very important aspect of Perizzolo's coaching methods.
Perizzolo earned his associates degree online from Santa Barbara city college. He later attended the University of California at Channel Islands where he graduated in 2019 with a bachelor's degree in science. In the future, he plans to earn a masters degree in mathematics.
From having great teachers and always finding himself fascinated with math, Perizzolo was extremely excited to start teaching math this year.
"Most people would probably say I'm good at math, I would say I'm not. I would say I'm a hard worker at math, but I don't know if I'm good at it, it takes me a lot of practice," Perizzolo said. Perizzolo finds that because he struggled with math in school, he has a better understanding of how to help students learn .This year, Perizzolo is teaching math 1, math 2, and math 2 honors. 
Perizzolo is already making an impression on his students. "I like the way he interacts with the class and has everyone doing something and doesn't make the class feel awkward," sophomore and math two honors student Alana Miles-Martinez said. Perizzolo loves when students give him feedback and when students engage in the class.
Perizzolo is grateful for Buena and the atmosphere he has entered in teaching here. "The support I've had at Buena is really what I was expecting when I took the job and is exactly what I've been getting," Perizzolo said.
Aside from work, the biggest aspect in Perizzolo's life is his family. He is married and has two daughters, a son, and owns a basset hound. He enjoys woodworking, playing video games, and going to Disneyland with his family.
Buena is happy to welcome Perizzolo to our community and is excited to see the impact he will have on students in the class and on the team.