Teachers adjust to many challenges of online learning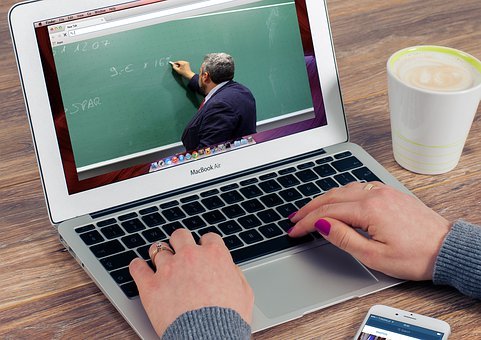 Due to the COVID-19 pandemic, teachers are facing a variety of challenges ranging from technological issues to missing the face-to-face interactions with students. While some teachers who may have had a class set of chromebooks prior to the school closure might have had an easier time transitioning to online learning, this is the first time in Buena history where all teachers are teaching solely online. 
Many teachers have encountered struggles from balancing school and work responsibilities as well as engaging with students in an online environment. "I miss seeing students smile, interact with each other, and engage with their learning," choir, history, and english teacher Kevin Downey said. The positive interactions between students and teachers in the classroom have the ability to make somebody's day. "It is a little soul-sucking teaching to a 'blank' zoom room when so many students turn off their cameras and would rather type in the chat than speak out loud." This makes it uncomfortable for teachers because they feel like they're just talking to themselves.
Teaching choir has been an added challenge for Downey. "We literally can't sing together at the same time because of time latency problems with Zoom. So, we are focusing more on building our music-reading skills and recording our voices so that I can compile them all together into a 'virtual choir' audio or video recording" Downey said. 
"
As a teacher my ultimate goal is to create a safe learning atmosphere."
— Anne McGavern
Amongst the downsides of distance learning, there are upsides. "One pro is that the online platforms allow me to see all of my students' written responses at once. I am able to respond in real time to student ideas or class confusion instead of having to read the responses after class and respond later, " english teacher Kailynn Taylor said. According to Taylor there are some positive aspects of online school like getting assignments graded quickly. However, what Taylor does miss about in person classes are little things, like hearing the students interact or a laugh is what teachers miss the most. "​I  miss those magic moments in class where a joke is made and the whole class laughs or when a class conversation gets vulnerable and students go deep," Taylor said.
Science teacher Michael Yorke understands that online school can be a challenge for students, "There is a lack of socialization when they [students] are staring at blank screens and they feel overwhelmed with the workload." He knows the benefits of staying home and takes advantage of them. Mr Yorke said, "I get to have my dog around all day. I do not  have to commute, and I can cook my lunch in the kitchen. We're also less likely to spread the virus." 
Math teacher Anne McGavren works hard to help and be there for her students. "As a teacher my ultimate goal is to create a safe learning atmosphere," McGavren said. Her goal in the classroom is to make her students feel safe when making mistakes and if they are struggling. "It's frustrating not being able to see the vibes of students to see if they are struggling or need help."
Another layer adding to teachers' challenges is the responsibility that holds outside of the classroom as well. Being a  mother of two little ones has proven to be a challenge for McGavren, "I'm balancing being a mom at the same time, I have to constantly switch back and forth between "mom" mode and "teacher" mode." 
About the Writers
Steven Ruiz Martinez, Staff Writer
Steven Ruiz Martinez is a 1st year student Journalist. In his freetime he likes to hangout with family and friends, and play sports. In his future he hopes...
Moses Garman, Staff Writer
Moses Garman is a 1st year student Journalist, and is a Staff Writer for Buena Speaks. In his free time he enjoys experimenting in the kitchen with food,...