Knowledge Bowl extends tryouts, seeks sage students for trivia
They want you! Show up to room 21 at lunch Tuesday, Jan. 11 through Thursday Jan. 13, to try out for Knowledge Bowl, and compete against others. The jeopardy style trivia competition pits school against school in the county in order to win the Rutherford trophy. 
English teacher Andrew Coates advises the extracurricular Knowledge Bowl and hopes to win first place out of 11 schools in the county.
"Think of Jeopardy but teams of four playing against each other," Coates said.
Having buzzers, judges ask questions and whichever team knows the answer can buzz in to answer. Answer correctly and you get the points, answer incorrectly and the other team has the chance.
"People get really into it. It is something Buena has had some success with in the past," Coates said.
Having their first set of tryouts the week of Jan. 3, Knowledge Bowl is extending the try outs to a second week starting Tuesday, Jan. 11 through Thursday, Jan.13 because of the influx of absences due to quarantining. Tryouts are open to everyone and anyone, however, juniors and seniors typically find themselves among those who make it onto the team. Occasionally, a sophomore will be accepted on to the team as well  with an occasional sophomore on the team.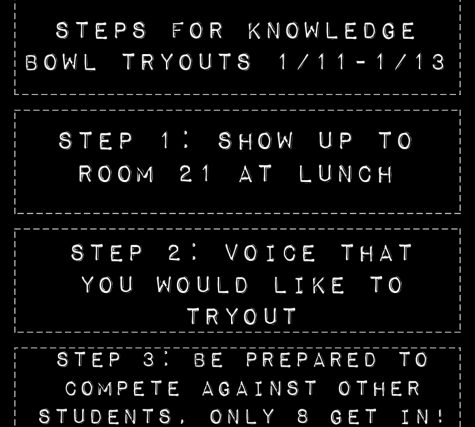 "A lot of questions come from AP classes, a lot of history questions, a lot of English questions, a lot of science questions," Coates said. "Typically, those AP classes you take your junior and senior year is where a lot of the questions come from,"
Wanting a "large sample size" of questions, Coates did not want to ask a small number of questions for a small group of people, he wanted volume.
Senior Breanna Chay gave insight on the questions while trying out with her friends. The more she tried out the more she realized she liked the environment and wanted to continue that "important" relationship with Coates who she had freshman year.
"It ranged from geography questions, to pop culture questions, to science questions. It was just a bunch of questions that were randomized," Chay said. "I would not lie it was pretty difficult going in some of the questions, but I feel like the more you go through it, the more at ease you are."
"
"I am not [going to] take fewer than six and I am not going to take more than eight," Coates said. "It is [a] pretty selective team,"
— Andrew Coates
Deciding who makes the team is all up to Coates. Taking the batting average of the people who come and try out, Coates sees what percentage of questions they answer and what percentage of those questions they get right. Looking at those numbers he weighs them against how many they responded with. Taking into account how many rounds they played and how many questions they answered correctly Coates makes a spreadsheet with all the numbers and takes the top six or seven.
"If somebody comes in and spends six days at tryouts and only answers two questions, but gets them both right, they have [a] 100 percent batting average," Coates said. "I [would] rather take somebody who came in, answered seven or eight questions and got half of them right, then somebody [who] comes in and gets two for two,"
Having 15 to 16 students trying out the first week with no returners, Coates is building the team from scratch. Out of all who try out, only six through eight are chosen to be on the team.
"I am not [going to] take fewer than six and I am not going to take more than eight," Coates said. "It is [a] pretty selective team,"