Grace your ears with Buena's latest holiday talent the Not-So-Silent Night album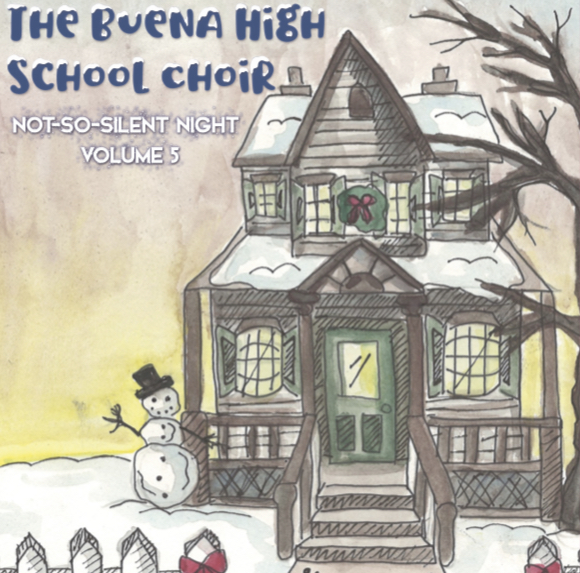 The Not-So-Silent-Night album is back and better than ever. The art skills of Natalie Miller and Sierra Ruiz blended with the music abilities of the choir, staff, and students culminated to create a work of melodic beauty not to be missed. Volume five of Not-So-Silent-Night  is full of talent and holiday spirit for everyone to enjoy and caught the attention of  KCLU.
The CD can be bought at the ASB store or in the library for 12 dollars. It can also be downloaded for 10 dollars on online platforms such as Amazon Music and Apple Itunes by searching "the high school choir". 
Containing 10 songs, one of which, "Hau'oli Hanukkah," is written and performed by Buena librarian Joel Levin. Choir Director Kevin Downey and Levin, produced, recorded, and engineered all tracks included in the album. 
Underneath the Tree
First on the album and a perfect way to start it off, Underneath the Tree is  performed by the Buena High School choir and written by Kelly Clarkson and Greg Kurstin. The choir added a calming element with their voices and the instruments in the back adding energy to the song. It is the perfect way to start off  a Christmas party.
(Everybody's Waitin' for) The Man with the Bag
Performed by the jazz assembly feat. Noel Takaya, written by Irving Taylor, Dudley Brooks, and Hal Stanley, this song has a classical and soothing tone. Takaya's vocals paired with the jazz assembly created a symphony of holiday magic. 
Christmases When You Were Mine
Written by Nathan Chapman, Liz Rose, Taylor Swift and performed by junior Annalise Yenney. The song, while on the more emotional and sad side, is calm and soothing in sound because of Yenney's voice. It is the perfect song for those who are facing heartbreak during the holidays and are looking for something relatable while also comforting. 
Breath of Winter
Written by David Waggoner, Greg Glipin and sung by the choir. The song itself is pleasing to the ear, it may even remind you of the choirs that sing in holiday movies such as "Home Alone" with it's lullaby-like tone.
Joy to the World
Written by Geroge Frideric Handel, Isaac Watts and sung by juniors Roselyn Vera and Mariah Young, this song is great to play for Christmas day. The song itself is enjoyable and with a slight joyful tone that is perfect for the holiday season when you are relaxing by the fireplace and reading your favorite book. 
Winter Reflections (For Kaden)
Written by Danny Ulloa and performed by Daniel Ulloa. This is a song that tells a story with only instruments. In the beginning it is somewhat lighthearted and soft, like the first snowfall, the middle takes on a slight somber tone, as if a snowman is melting as winter starts to leave. The end becomes intense, like snow melting away and leaving wet grass with mud behind. 
What Child is This?
Written by William Chatterton Dix and performed by Belen Cervantes. Cervantes' voice adds the deep soulful and heartfelt tone to this traditionally christian song which also,in my opinion,has a hint of a country tone in it that will get your toes tapping. This song is soothing and great for when you are in the mood for a passionate and genuine christian song.
Hanukkah
Written by Suzanne Sherman Propp and once more performed by the choir. This Hanukkah song is soothing to listen to, the voices of the choir go well together and the energy is peaceful and has a subtle holiday spirit. 
Hau'oli Hanukkah 
Written by Joel Levin, Buena librarian, Nani Carvalho and Danny Carvalho this song is performed by the briar rose rambles. Bringing a different element to the album. This song is more upbeat with a modern new age sound, its tone is similar to 'John Mayor' or 'Phillip Phillips'. This song is perfect for when you want to listen to music and relax or if you want music for a party.
The Christmas Song
Last but not least is the tenth song, written by Mel Torne and Robert Wells. Performed by the Buena sax quartet feat. Noel Takaya, Nathan Montiel, Kayley Batten, and Idalia Landeros. This last song is a perfect way to finish off the album, almost like finishing off the year.
Overall this year's Not-So-Silent-Night album is festive and uplifting while having a classical and traditional tone that brings joy and is great to listen to all season long.