Buena receives 1,600 COVID tests for students, staff
For the second time, Ventura Unified School District has received a shipment of the 15 minute at home COVID tests. This time they have enough tests for every student in the whole district including elementary, middle and high schools.
"Last time I think we got 1,800 or 1,900, and this time we got 1,600," Principal Audrey Asplund said.
Rapid COVID tests have benefited the community and testing centers because of the impact of cases due to the holidays. Along with this, lines at Buena for testing have been an hour long which makes the tests convenient for families.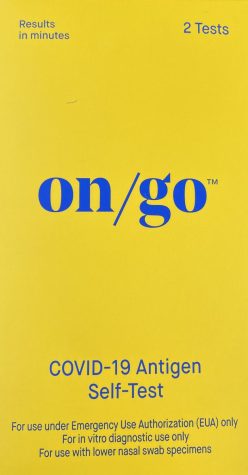 "I know they are not as accurate as some tests but if you follow the directions and do what you are supposed to do, they are pretty accurate," Asplund said. "I think it helps save time for families, they are not waiting in a line somewhere. You are doing it at home, you are getting results fast, in 15 minutes, and I think it could potentially keep kids who have COVID at home,"
If you want to locate a 15 minute COVID test, you can go to the office and get a test or get them at the times assigned in an email sent to parents. 
"They do not have to get out of their car, [and] we have had students walk up and just get a test and that is fine too," Asplund said.
Asplund expressed her excitement with having a new shipment of COVID tests because now they will have enough to give out to teachers. It also is beneficial for those who would not necessarily go to a testing site but because they had the opportunity of picking one up, they can take the test anyways.
"We have had some students [who] had no symptoms and they were like 'oh, here is the test, I will just take it' and they end up positive," Asplund said. "It is good to stay safe,"
Senior Renee Morales, picked up a COVID test during her first period last week and thinks the availability is "awesome,"
"Some people can not get COVID tests where they live or even at their school and you can also take it home so they do not have to wait in a long line and wait over an hour like I did once," Morales said. 
If you receive a positive COVID test, call the office and the health office to inform them of your positive test and they will tell you the precautionary steps to take depending on your vaccination status.